Stair Remodelling and Stair Replacement Case Studies
Our before & after stair remodelling and replacement gallery shows the huge difference a new staircase or balustrade can make to your property. From simply replacing outdated timber spindles with a new balustrade, to replacing the whole staircase itself, these transformations speak for themselves.
The use of space is as important as the staircase itself. Our designers often suggest alternatives to the way the space is laid out plans. Bisca will worked with your architect to either move the the location of a staircase, or change the layout to make the best use of the space within the flow of the property.
Project: 6135 Hampshire
---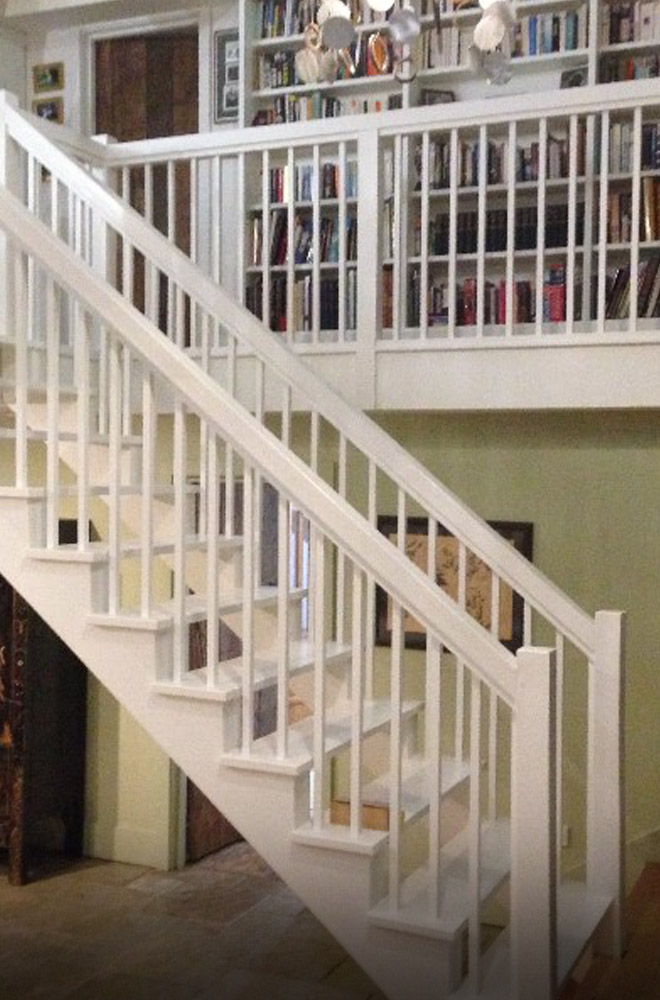 The old staircase and balustrade in a listed barn conversion was of white painted timber. There were issues with head height and its position in relation to the front door.
Angular and clunky in shape, the staircase created its own visual noise when viewed against the wall to wall bookshelves and ancient oak beams. The white timber spindles on the bridge were both a physical and visual barrier.
In a building filled with ancient oak beams, ash may seem like an odd choice of material for our designers to suggest. However, the overall effect calms the room and was part of our design intent.
The new layout is a sweeping staircase, with a curved top landing, transitioning the balustrade onto landing edges.
The balustrade on the staircase and first floor is of forged and tapered stainless steel uprights. The uprights have a gentle curve outwards at the top, further enhancing staircase curves. At the head of the stairs the uprights give way to glass balustrade for the bridge. For more information please see project 6135 in our gallery.