Stair Design Award | York Design Awards 2015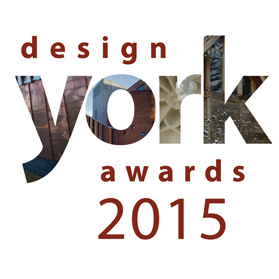 Stair design impresses York Design Awards judges
Stair design was on the agenda at the 2015 York Design Awards where Bisca were awarded the Judges Special Award for design detail and craftsmanship for the staircase in the Piccadilly Loft Development, York.
A very real concern of many people refurbishing a period property is getting the new interior to sit well in what can effectively be a completely new shell. In this respect staircases are no different and regardless of whether you choose a traditional or contemporary staircase it has to be in empathy with the building and not look like an obvious add on. Executed properly the staircase will update the property and see it confidently through generations to come.
In 2014 Bisca were commissioned by Northminster Ltd to work alongside Rachel McLane Interiors and COG Architects in the conversion of a 1930's car showroom in the heart of York into prestige, residential loft style apartments.
There were two clear facets to the redeveloped building, the River Foss facing apartments, which were rather industrial in architectural scale and feel, and the more urban domestic proportions and outlook of the Piccadilly Street facing apartments.
The overall theme for the redevelopment was industrial; the differentiator being the level to which the fixtures and fittings of within each apartment or area soften the feel.
In keeping with the industrial heritage of the building the main common areas staircase, from basement to ground and ground to first, was carefully designed to be part of the property in its new chapter. Visible from Piccadilly at street level, the staircase is showcased in a huge feature window at ground floor and the design had to be both stunning and functional.
As the apartments at the Piccadilly side of the property were fitted with oak units and oak flooring, hardwearing treads of fumed oak were the obvious choice for the staircase timber. The inlaid tread detail provides a non-slip function as well as adding interest.
The stair design features closed treads and risers are supported by slim and elegant steel structures and sweeping plastered soffits contrasting wonderfully with the warmth of the exposed brickwork. The balustrade is of hand forged, formed and textured uprights capped by a tactile hand carved oak handrail.