Staircase Help & Advice
The prospect of commissioning a new bespoke staircase or renovating an existing staircase can potentially be a daunting experience. This section contains questions & answers, tips, help & advice, and technical terms for complete beginners to seasoned property professionals.
Staircase Design FAQ
Regardless of how much it costs and how it looks and what type of property it's going into, there are some fairly standard points to consider as far as a staircase or balustrade is concerned. Richard McLane, Bisca's Founder and Design Director, provides help & advice for anyone thinking about a new staircase or potentially renovating an existing one.
Building Regulations
Design and construction of staircases and balustrades are governed by both Building Regulations and British Standards. We ensure that every staircase we design conforms to the relevant Building Regulations and British Standards in force.
Click here to view the latest documents governing staircase design which are available for download:
Government Planning Portal Part K
Government Planning Portal Part M
Measurement Parameters
A few tips for measuring your existing staircase, or the space into which your new staircase will go:
In order for us to provide you with a guide price, we need to have an idea of the size of the area into which the stair must fit.

Architectural plans are ideal;  simply email copies along with your enquiry.

Alternatively, you can take a few simple measurements to enable us to determine the size of the stair. See the technical section for help & advice and how to identify critical measurements.
Typical Stair Plan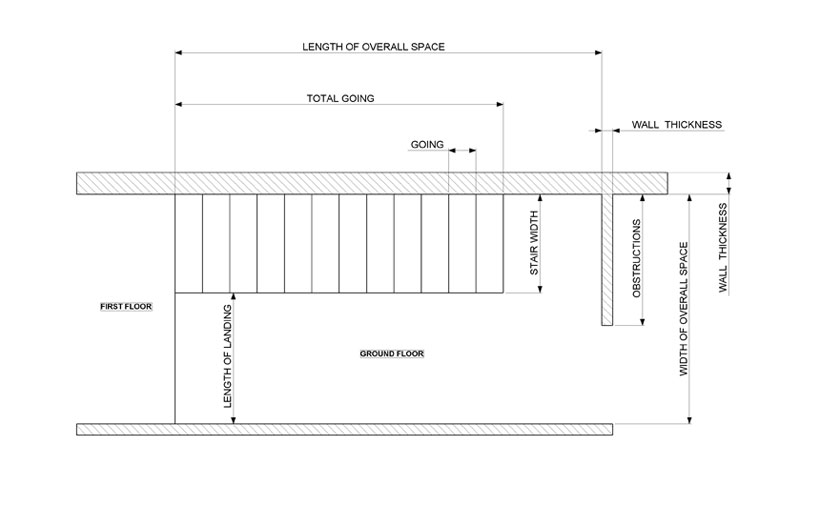 Typical Stair Elevation