Stair Remodelling and Stair Replacement Case Studies
Our before & after stair remodelling and replacement gallery shows the huge difference a new staircase or balustrade can make to your property. From simply replacing outdated timber spindles with a new balustrade, to replacing the whole staircase itself, these transformations speak for themselves.
The use of space is as important as the staircase itself. Our designers often suggest alternatives to the way the space is laid out plans. Bisca will worked with your architect to either move the the location of a staircase, or change the layout to make the best use of the space within the flow of the property.
Project: 7626 Leeds
---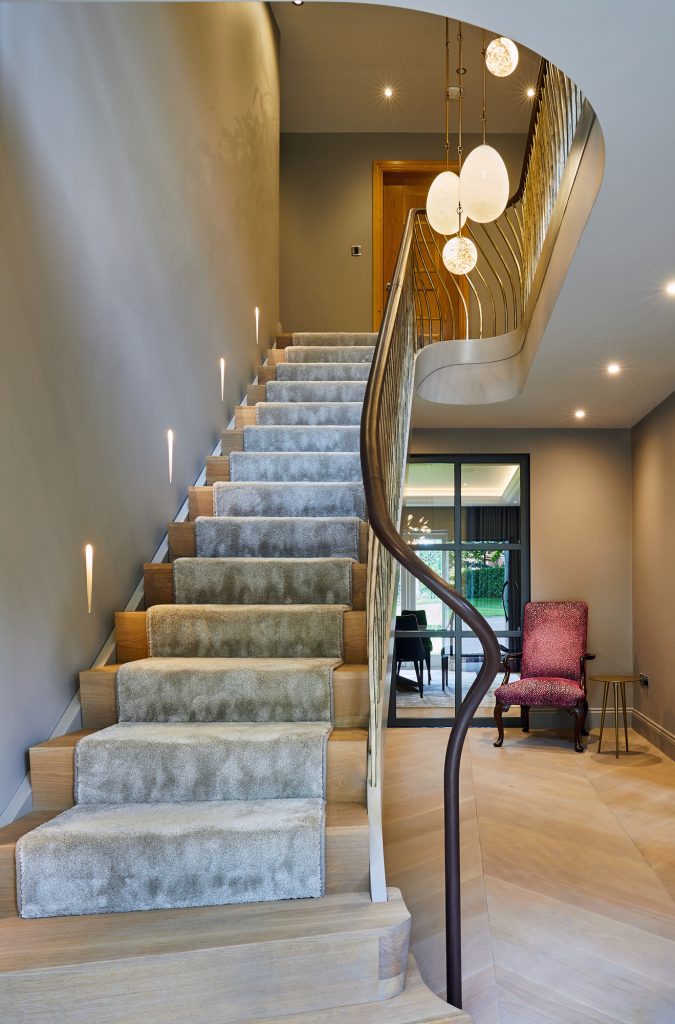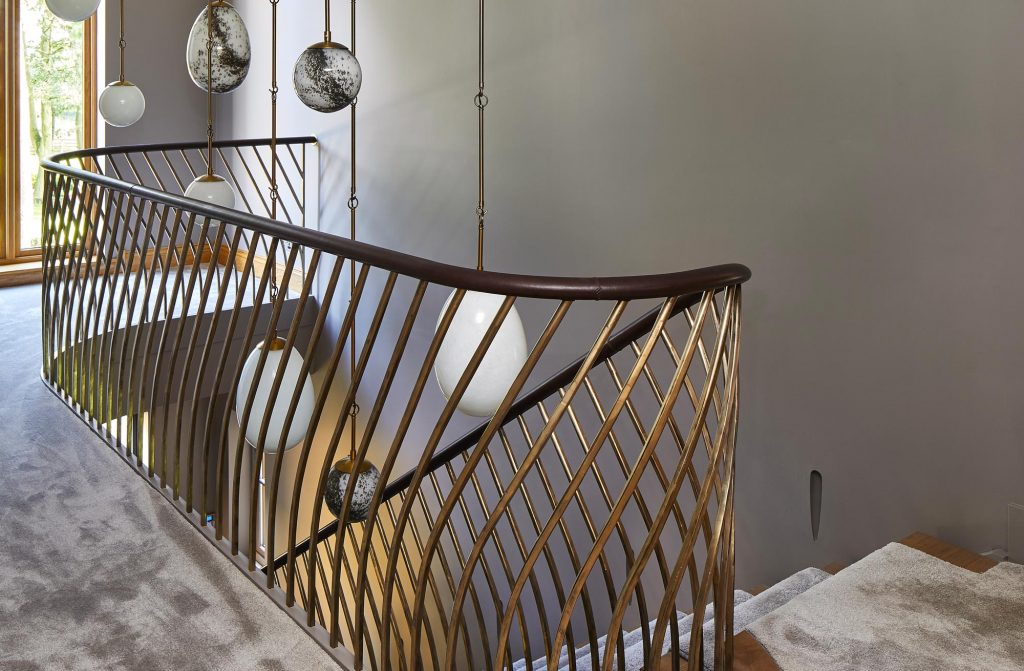 STAIRCASE REPLACEMENT
Bisca replaced a narrow timber staircase in a Leeds property. Chunky timber uprights and newel posts were not in keeping with the feel of the rest of the house. Instead of being in the middle of the hallway, our new design sits against the wall, with a clear view through to the garden beyond. Forged and formed bronze uprights with leather handrail replace the all timber balustrade.
For more images and details of this project please view the project in our gallery.
Project: 3502 Harrogate
---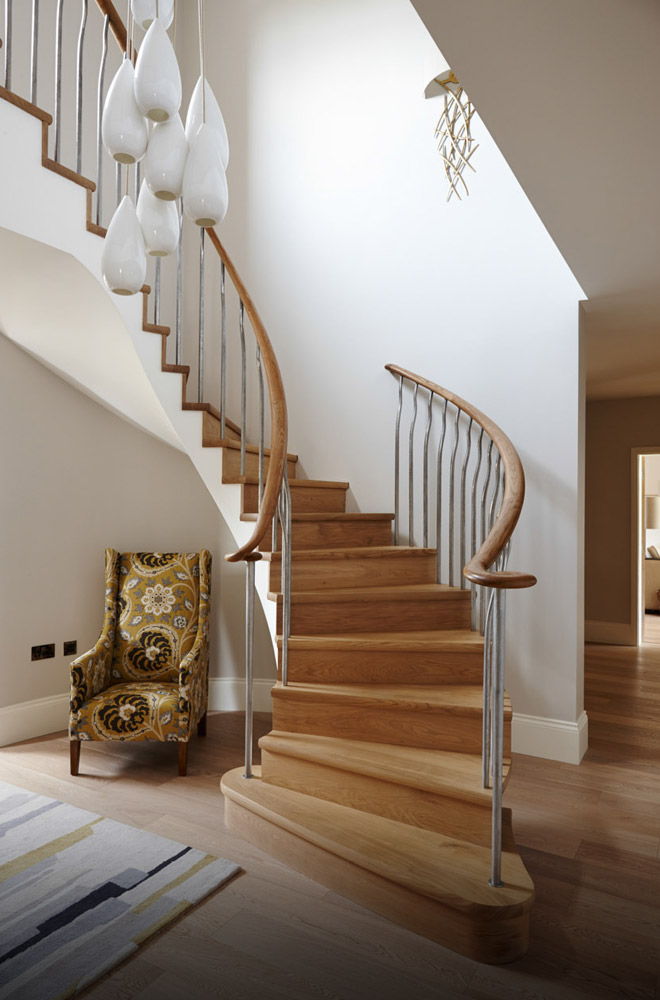 STAIRCASE REPLACEMENT
Bisca were called in to look at this rather awkward, angular concrete builders staircase (left) in a prestigious new build.
Apart from the fact it was too mean and small for the space, it had been cast so that it clipped the door entry; the going was too short, rendering it uncomfortable in use. Any attempt to clad the bare concrete on the landings would have made both landings non compliant with building regulations.
We had no alternative but to remove it out and replace with an elegant semi-helix of English Oak and hand forged, formed and textured steel.
Mention project 3502 for more info.
Project: 7060 Ilkley
---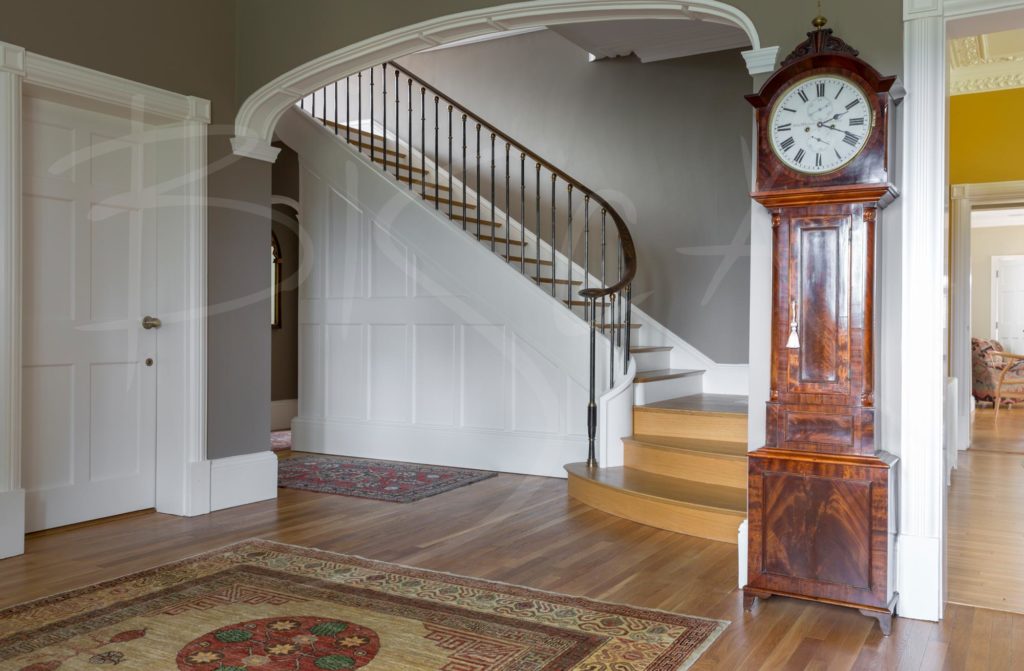 STAIRCASE REFURBISHMENT
The layout and condition of the original staircase was acceptable. The original white painted balustrade looked dated and not in keeping with the rest of the house.
Inspired by Georgian design, our client asked us to design a new balustrade that updated the staircase.
Clever design introduced curves to an original "squared" landing. These, in turn, allowed sweeping transitions in the handrail.
New oak tread and riser fascia – matching the existing floor – give a hardwood timber finish from head to foot.
For more info and pictures of this staircase please see project 7060 in the main gallery.
Project: 6374 Manchester
---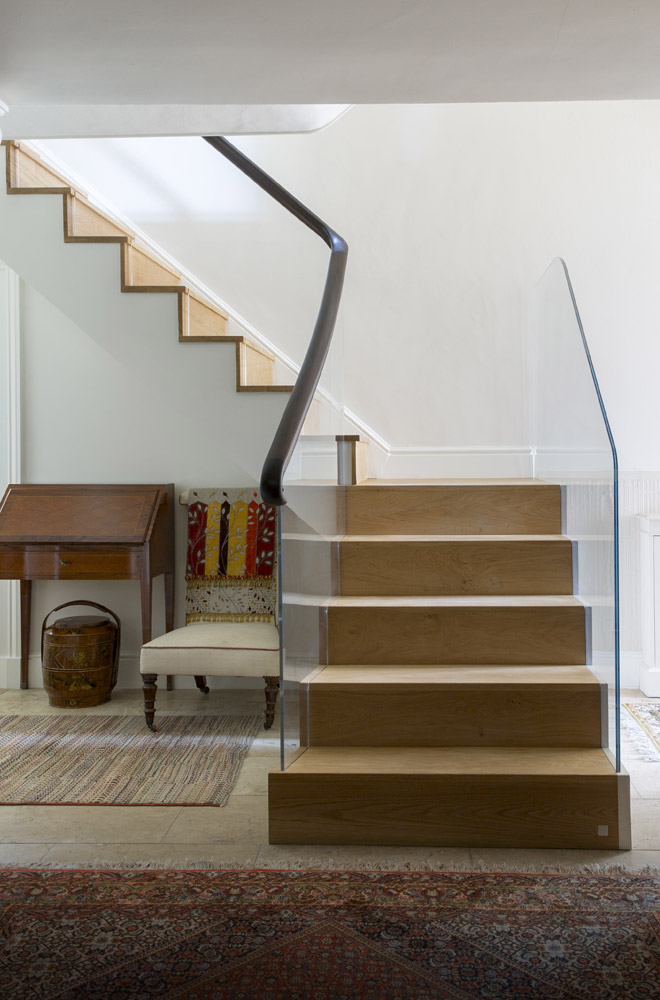 STAIRCASE REFURBISHMENT
In addition to the added complexity of retaining the existing handrail on the upper flights (way too beautiful to replace), worthy of note with this project was the fact the staircase was ever so slightly off-kilter.
Removing the carpet and replacing with oak treads and risers with a slotted glass balustrade has transformed the entrance area.
To find out more about this project please mention 6374.
Project: 6135 Winchester
---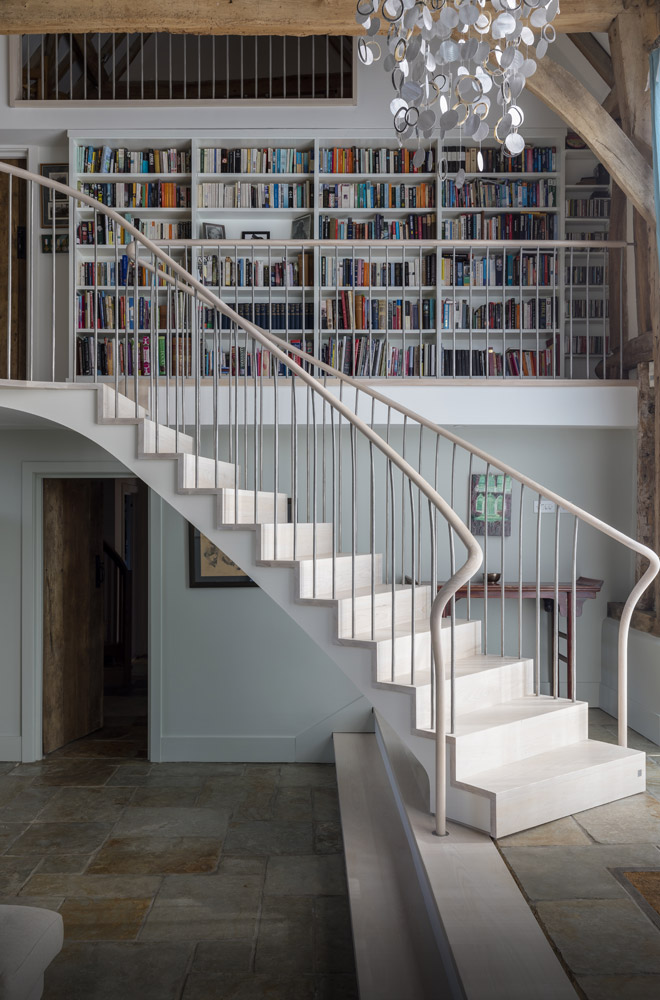 STAIRCASE REPLACEMENT
The old staircase and balustrade in a listed barn conversion was of white painted timber. There were issues with head height and its position in relation to the front door.
Angular and clunky in shape, the staircase created its own visual noise when viewed against the wall to wall bookshelves and ancient oak beams. The white timber spindles on the bridge were both a physical and visual barrier.
In a building filled with ancient oak beams, ash may seem like an odd choice of material for our designers to suggest. However, the overall effect calms the room and was part of our design intent.
The new layout is a sweeping staircase, with a curved top landing, transitioning the balustrade onto landing edges.
The balustrade on the staircase and first floor is of forged and tapered stainless steel uprights. The uprights have a gentle curve outwards at the top, further enhancing staircase curves. At the head of the stairs the uprights give way to glass balustrade for the bridge. For more information please see project 6135 in our gallery.
Project: 5660 North London
---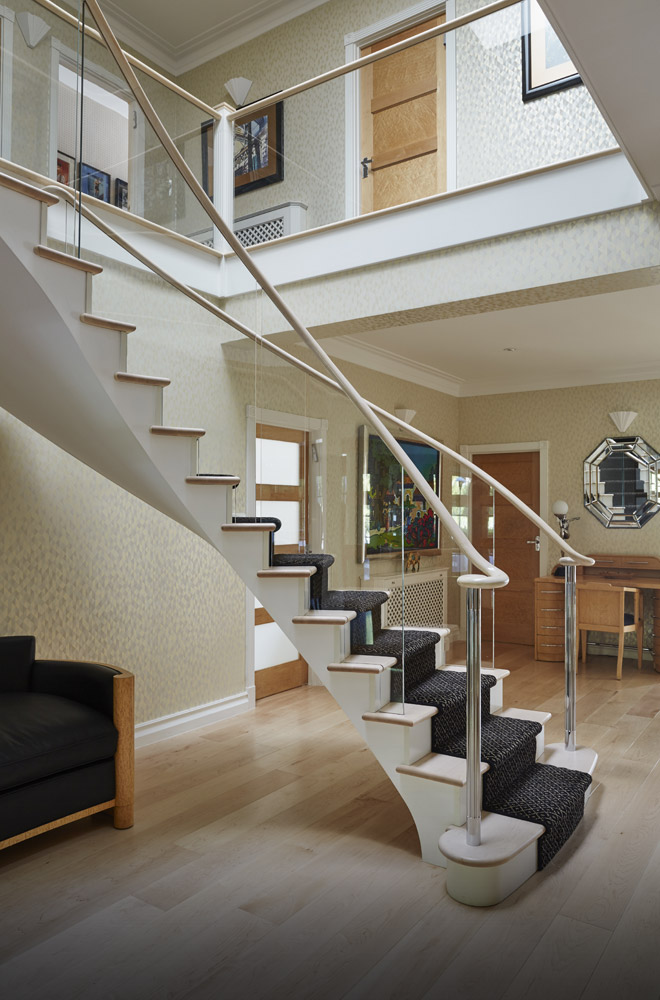 STAIRCASE REPLACEMENT
The clients disliked everything about the original staircase, apart from its position in the house. We were asked to "re-imagine" a new staircase in its place.
The old staircase, although helical, was clumsily done and finished with timber spindles which made the whole entrance lobby look dated. Replacing with a slim steel structure and low iron glass balustrade updated the property and removed visual clutter. For more information please mention project no 5660
Project: 5047 Buckinghamshire
---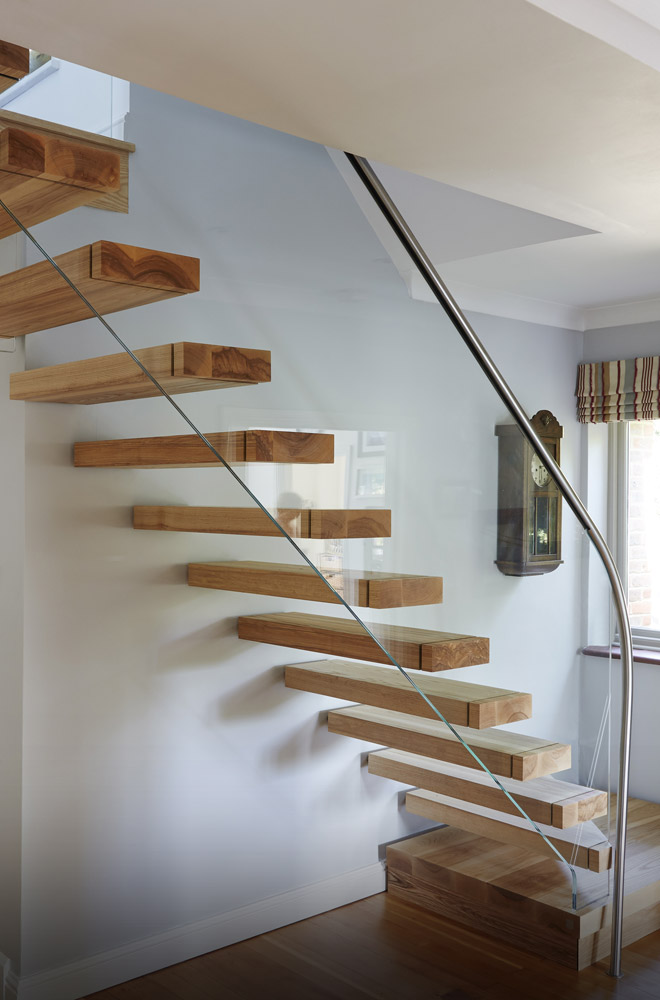 STAIRCASE REPLACEMENT
A floating ash staircase replacing a traditional timber stair in a 1930's property.
Despite renovating every room in the house, the hallway remained dark and oppressive. The staircase, at odds with the new ash flooring, absorbed light and looked dated.
Our design proposed a floating staircase to maximise light flow. Slim open treads of ash teamed with low iron glass gives a contemporary clean look. At the top of the staircase, we suspended the top three treads between two glass panels, thus giving a floating effect.
By extending the new staircase future towards the window, the going is a little easier. Adding a winder onto the bottom of the stair length turned the staircase and made it easier to get on and off.
Upstairs the difference is as dramatic. Dark, chunky newel posts and spindles have been replaced with a sleek glass balustrade, letting through light and making the landing area look instantly bigger and brighter.
The staircase transformed the hallway and made the property renovation complete. For more information please quote reference 5047 or see the staircase in our gallery.
Project: 4875 North London
---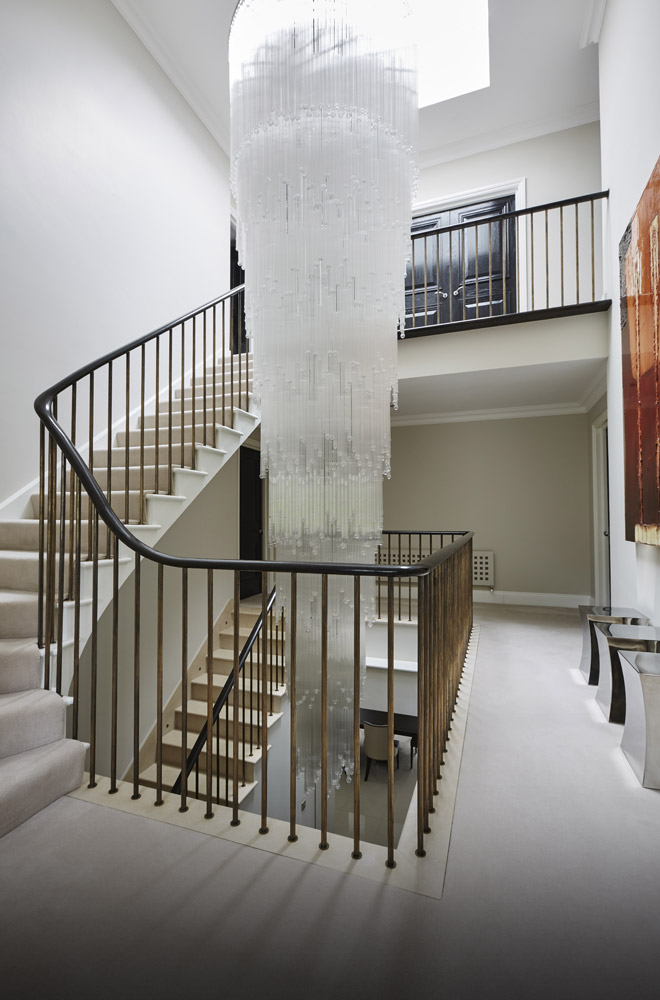 STAIRCASE REFURBISHMENT
The staircase in this North London property had been fabricated by a builder without any consideration for design whatsoever.
The spindles he used were of the mass produced, off the shelf kind and were fussy, poorly finished and not in keeping with the elegance of the house interior. The handrail was made up of a series of lengths of timber with very poor transitions and made a bad job look even worse.
As the staircase runs up through the heart of the house, the clients wanted a design that was both elegant and fitting at the same time.
Our new balustrade uses raw, forged bronze uprights for a simple, yet striking effect. We replaced the handrail with sweeping, hand polished timber, running continuously up the stairs and along landing edges.
For more information on this project please quote reference 4875 or see the project in our gallery.
Project: 4472 Hale
---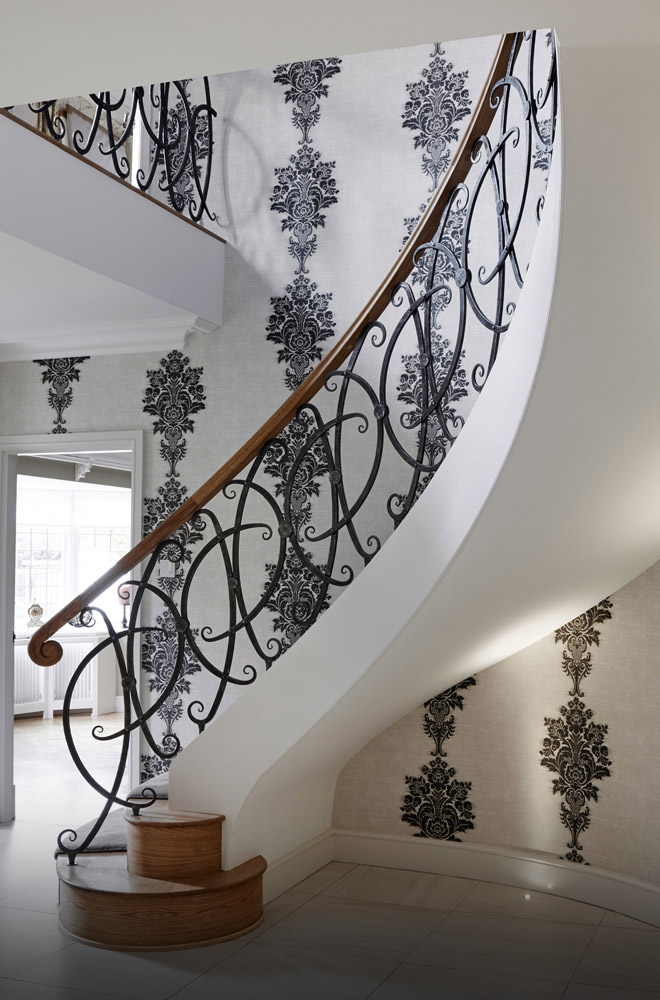 STAIRCASE REFURBISHMENT
Our clients had embarked on an ambitious project to totally restore and update a substantial 1960's suburban villa in leafy backstreets of a city.
They were happy with the overall shape of the staircase which was structurally sound but wished to replace the traditional, outdated and heavy dark stained wood which formed the balustrade and landing gallery.
During our survey we discovered the bottom three treads were non compliant with building regulations but saw this as an opportunity to both solve the compliance issue and create a beautiful new feature base to the staircase.
The stair was totally re clad in pale Oak and finished with a hand forged, blackened ornate balustrade which continues up the staircase and along the landing edges. The balustrade is capped by a hand carved oak handrail with a scroll end. For more info mention project 4472 or to see it in our gallery click here
Project: 4766 York Villages
---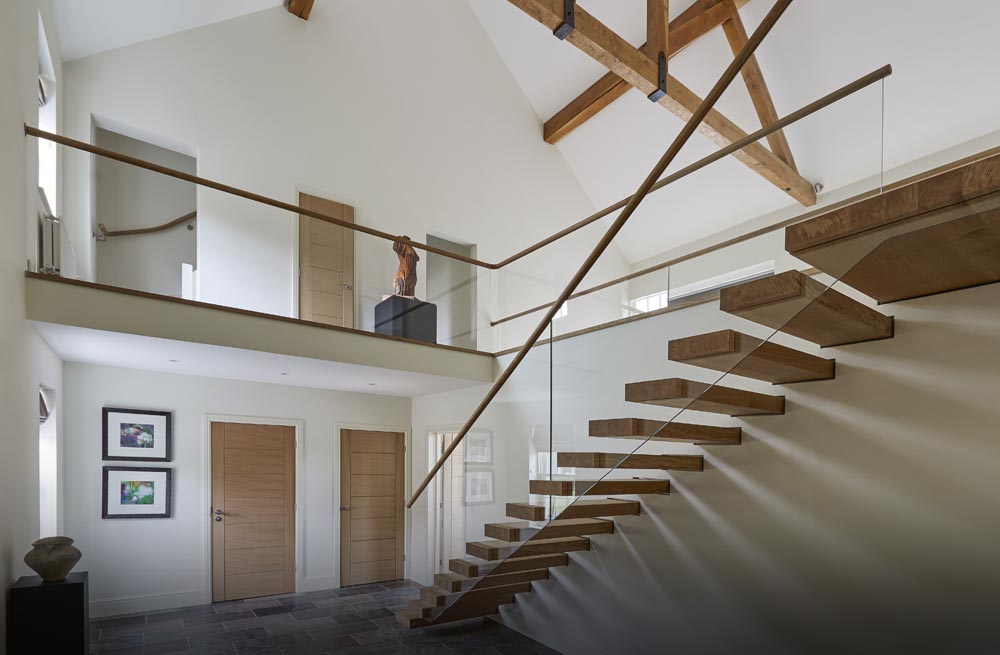 STAIRCASE REPLACEMENT
The existing timber staircase of angular sections and heavy posts dominated the entrance hall of a lovely village property. Although of good quality, the staircase had clearly not been designed with form or function in mind and the new owners found it to be a physical and visual obstruction when moving between rooms.
As a replacement, Bisca designed a sleek contemporary staircase with cantilevered open treads supported by hidden steel plates within the wall. A low iron glass balustrade, made up of only two panels is capped by a profiled Oak handrail slotted on top of the glass. The balustrade and handrail continues onto and around first floor landing galleries, also by Bisca.
Tread end caps cut from the same length of timber as the tread have a continuous grain, and thus the treads appear to be through the glass. For more information mention 4766
Project: 4190 Rickmansworth
---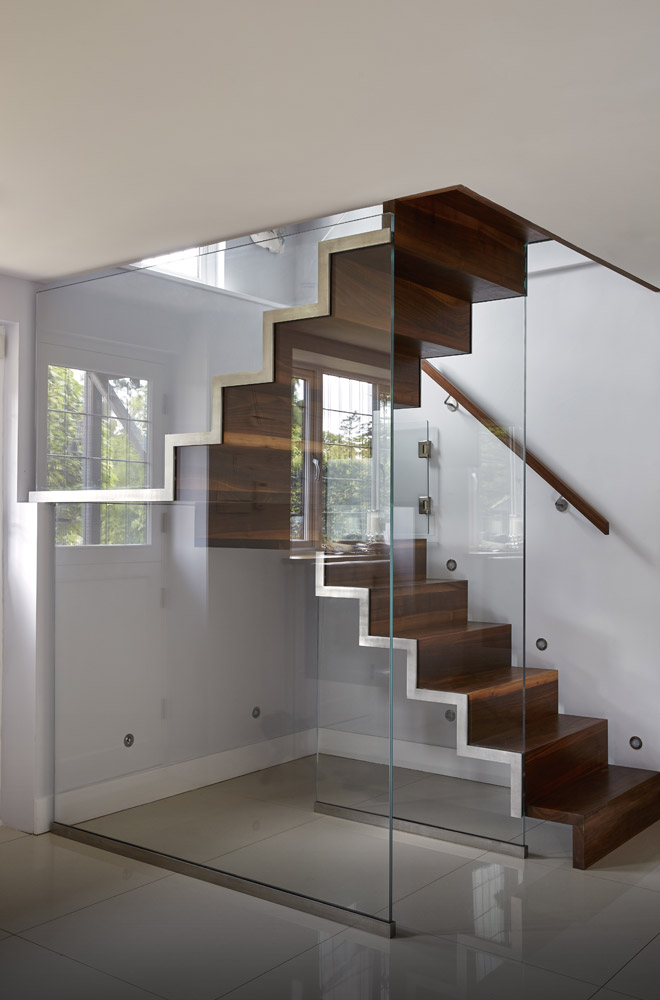 STAIRCASE REPLACEMENT
Our clients had just completed their dream kitchen but were unhappy with the new joiners staircase (above left). The angular shape did nothing for the space and because design had not been a factor in its fabrication, the bottom step was too high and left hanging in space. After deciding they couldn't live with it, they contacted Bisca to ask for advice.
Richard visited the property, surveyed the timber staircase and spoke at length with the clients about possible solutions. The option chosen was to remove the staircase completely and design a modern steel, walnut and glass stair – reflecting materials in the kitchen. For more information mention 4190 or see the project in our gallery.
Project: 4109 Scarborough
---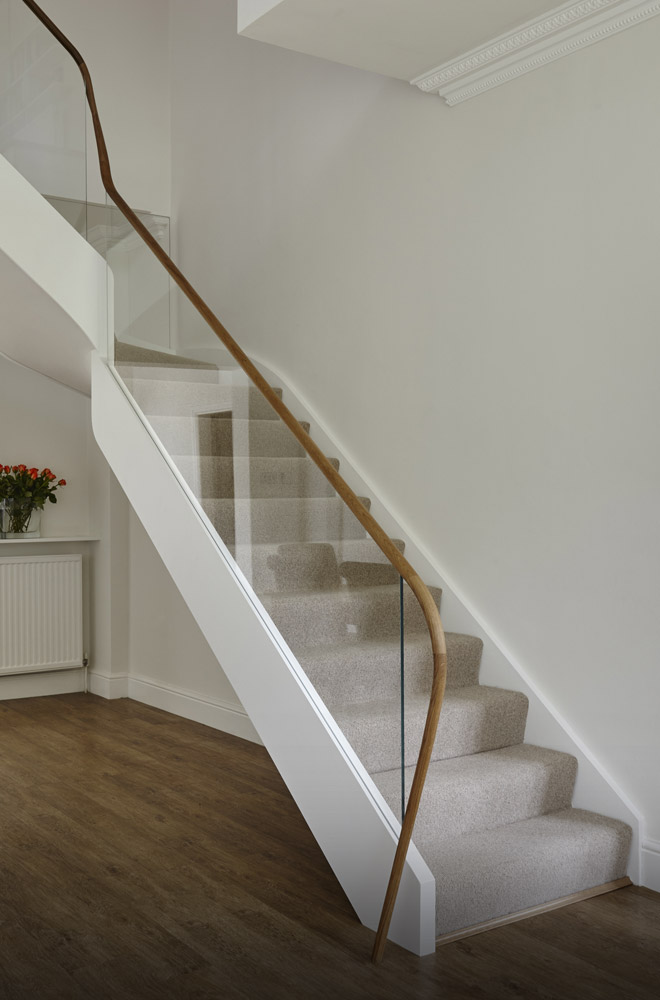 STAIRCASE REFURBISHMENT
Our brief for project 4109 was to renovate the existing dated timber staircase with its heavy stained paneling, dark timber spindles and chunky square newel posts. The clients wanted a mix of contemporary elegance, functionality and practicality using glass and oak to create simple clean lines opening up the room downstairs and landing space upstairs.
Our design included a sweeping white painted soffit to make a feature of the underside of the staircase. On the staircase itself the old newels were reduced lessening the visual impact on the open space.
A low iron glass balustrade was fitted to the existing newly white painted stringer and new landing edges, and was completed by a slim oval profile handrail continuing up and along the landing edge balustrading.
Project: 3867 Wylam
---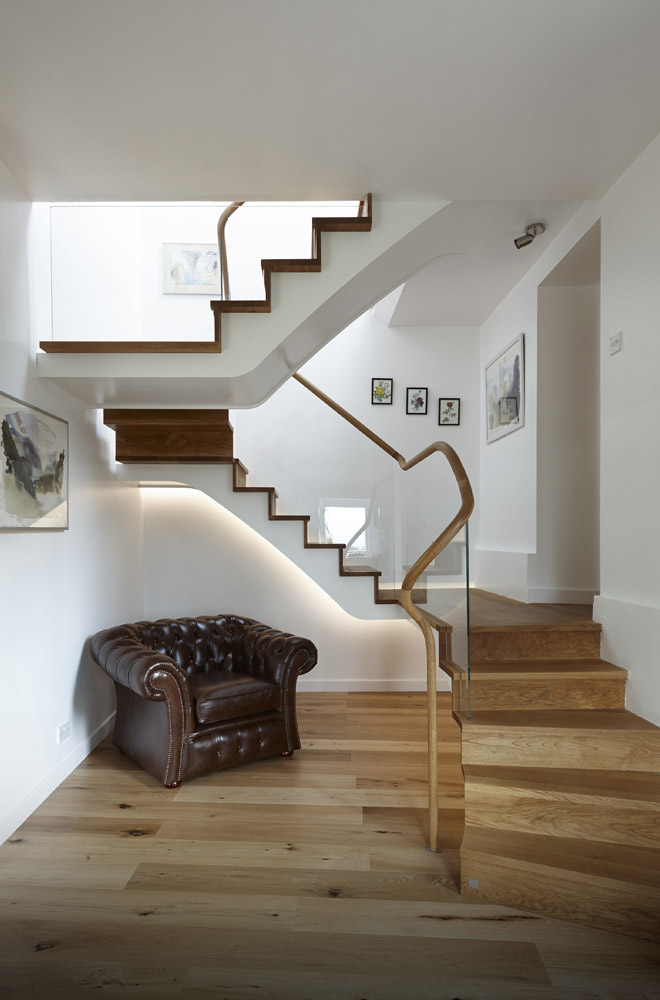 STAIRCASE REPLACEMENT
Our brief was to design a staircase to open up the entrance area of a listed clock tower to form a more functional and useful access and replace the dated angular timber staircase.
Our solution was a slim, elegant and visually lightweight structure supporting oiled English Oak treads, finished with a glass balustrade and a hand carved oak handrail.
The structure itself is subtlety conventional in appearance for integration into the existing style and period of the property but the glass balustrade maximises light transfer from first floor down to ground floor imparting an illusion of greater space. For more info see project 3867 in our gallery.
Project: 3843 Gloucestershire
---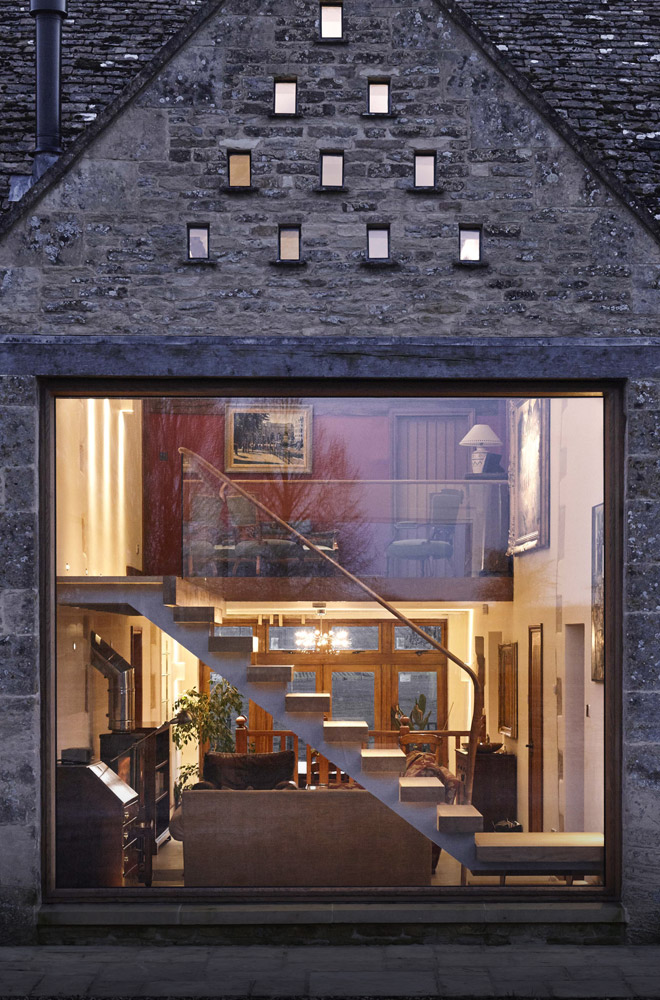 STAIR & WINDOW REPLACEMENT
Our brief was to design a light, spacious and modern staircase maximising the use of space in a farmhouse refurbishment. Our scope include a galleried landing area and library as well as an existing doorway to be replaced with a feature window with hidden blind.
Our solution was a slim, elegant and visually lightweight staircase structure supporting oiled English oak treads. Glass balustrades are structurally rebated into the treads with a continuous oak handrail rising from ground floor and along the gallery.
The structure itself is subtly conventional in appearance, whilst the glass balustrade is in keeping with the large window (also installed by Bisca) and retains the illusion of space. See more pictures of project 3843 here.
Project: 3826 Devon
---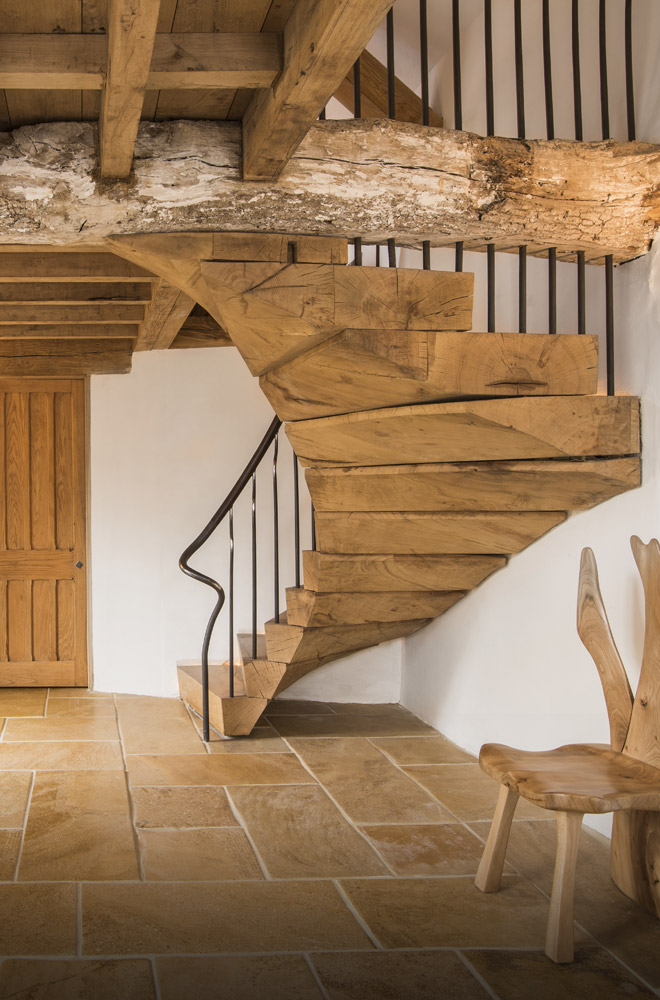 STAIRCASE REPLACEMENT
This stunning staircase in a converted barn won both Build It Award for Best Joinery Product and Northern Design Awards for Product Design in 2015
The client called us in after scouring the internet to find a staircase specialist that offered truly bespoke staircases as she wanted a staircase that would be a sculptural masterpiece of both form and function.
The staircase, in a converted cow byre (Shippon), is of green oak and was inspired by the mediaeval beams in the existing building. Great care was taken in design, material sourcing and installation to ensure the staircase is in empathy with the building in every aspect. We skilfully interfaced new and old timber joists and managed to design hidden support what was essentially a 'rubble and fill wall'.
On the first floor the staircase leads to a bridge and study gallery with glass balustrade and leather handrail to match that of the staircase. Mention project 3826 or see it in our gallery.
What our customers are saying about us
A beautiful piece of art that captures you instantly when entering the house. They understood my vision and were honest from the start about budget and expectations. I felt an immediate trust in them designing, manufacturing and installing our staircase. My experience has been perfect!
CS, Surrey
What our customers are saying about us
We are extremely pleased with the finished staircase, it seems a shame to have to walk on it! Please pass on our thanks to the whole team involved: Design, Manufacture, Construction – and the Installation team who were excellent. (Project 3986)
Mr S, Ilkley
What our customers are saying about us
The craftsmen have done an excellent job! Much attention to detail, and well worth the wait! (Project 8608)
Mr Mrs J, Yorkshire Coast
What our customers are saying about us
Thank you so much for everything. Expectations exceeded! Mrs B delighted. (Project 8080)
Mr Mrs B, Oxford
What our customers are saying about us
Richard, thank you very much, the stairs look very good we are both more than pleased and so is my dad!
Thank you for your professionalism and high quality of work- well appreciated and makes the entrance so special now. Thank you again. (Project 7892)
Mr H, Wakefield
What our customers are saying about us
We are delighted with the quality and detailing of our new staircase. Meticulous attention to detail by all concerned, exceeded our expectations. We found everyone at Bisca extremely helpful and couldn't recommend Bisca highly enough. (Project 7411)
Mr Mrs G, Suffolk
What our customers are saying about us
Very well planned out and great craftsmanship. (Project 7435)
Mrs H, Essex
What our customers are saying about us
The installation team was robustly planned by Bisca, installation was very good. The whole team were approachable and very friendly. A FABULOUS company to work alongside! (Project 5510)
JCI, Interior Designer, Yorkshire
What our customers are saying about us
I love the design and very impressed with the installation team. Thank you. (Project 8646)
Mr D, Bristol
What our customers are saying about us
Your craftsmen have done you proud this week! Nothing but positive feedback from the team here. Looks amazing!! (Project 9263)
MR, Chester
What our customers are saying about us
Fantastic job! Wonderful workmanship. Design through to installation has been a joy. Attention to detail and dedication of the team is superb. (Project 9442)
Mr Mrs Z, London
What our customers are saying about us
I am really delighted with the finished balustrade. It has exceeded my expectations. Thank you! (Project 9626)
ML, London
What our customers are saying about us
Beyond our expectations – a first class job. Very professional and nice people. (Project 6061)
Mr S, Cumbria
What our customers are saying about us
Looks great and the lads are a pleasure to work with. (Project 8532)
Mr Mrs C, Preston
What our customers are saying about us
Executed beautifully, looks fabulous and very pleased! (Project 8679)
LC, Warickshire
What our customers are saying about us
Very punctual, very hard working and polite. Left the site clean and tidy after each day of work. Couldn't speak highly enough of everyone. Very, very impressed and satisfied (Project 9063)
BS, Durham
What our customers are saying about us
The work has been completed to a very high standard (Project 9071)
DR, Yorkshire
What our customers are saying about us
We are thrilled with the staircase and happy with how easy your guys were to deal with on site and the attention to detail was exceptional! Thank you. (Project 9273)
P&M S, Essex
What our customers are saying about us
I wasn't sure if you'd been as it's like magic", "the staircase is just a piece of art", "you really captured what we were after and more", "it's absolutely incredible" (Project 8176)
Mr Mrs L, Oxfordshire
What our customers are saying about us
Thank you for a fantastic job on our staircase, its a wonderful design and the service was great. Everyone who sees the balustrade says how well it sits in the house. (Project 4211)
Mrs CB, Yorkshire
What our customers are saying about us
The Bisca staircase is a beautiful sculpture in our home, we enjoy it everyday. (Project 5029)
Mr & Mrs SP, Yorkshire
What our customers are saying about us
The guys on site are like magicians. (Project 8042)
CMC, Worcestershire
What our customers are saying about us
The standard of work is excellent and the fitters were very tidy and considerate. (Project 8076)
KP, South Downs
What our customers are saying about us
I am delighted with my beautiful balustrade and can't wait for the decorators to finish so I can view it in all its glory.
Thanks again to you, and all your team, for such a wonderful job! (Project 8276)
KG, London
What our customers are saying about us
Great site team, a pleasure have have around. Thank you to all the team at Bisca for a very professional job. The stairs are beautifully crafted with great attention to detail (Project 7603)
Mr JG, Hereford
What our customers are saying about us
From my knowledge of your company and the quality of workmanship, I would have no hesitation to highly recommend your fabrication and design skills to anyone if asked. (Projects 6722)
Mr GA, Yorkshire
What our customers are saying about us
The team have done a great job. The staircase is as beautiful as we hoped and more. (Project 6408)
Mr CL, Oxfordshire
What our customers are saying about us
We are both really thrilled with the new balustrade and staircase, thank you very much. (Project 7333)
GM, Sevenoaks
What our customers are saying about us
We are very impressed with what Bisca have done and the [craftsmen] team did a great job. (Project 6846)
Mr Mrs R, Luton
What our customers are saying about us
We are both thrilled with the finished product. Bisca have designed, manufactured and installed a first class product with which we are extremely pleased and has exceeded all our expectations. (Project 7777)
Mr K, Yorkshire
What our customers are saying about us
Thank you to all involved on our project, the staircase looks splendid! (Project 7119)
Mrs LC, Yorkshire
Our awards and accreditations