Making a unique staircase
A unique oak staircase is brought to life by Bisca's specialist team of design engineers and craftsmen – making use of a reclaimed canal lock gate; and transforming this to seamlessly integrate with the interior of our client's characterful barn conversion, based in Northumberland. The homeowner's brief was to design a staircase which reflected the building's beautiful heritage, which retains many features of its original structure.
A Unique Staircase Project Featuring Reclaimed Canal Lock Gates
Having previously worked with the Canal & River Trust, Bisca had been offered old timber lock gates that proved the perfect material for the staircase treads of this unique project. Canal lock gates are traditionally made from British or European oak and usually have a lifespan of around 25-30 years. The Canal & River Trust is responsible for maintaining a total of 1,579 locks across 2,000 miles of waterways in England and Wales. Each gate is unique in its form and so has to be hand-made in the Trust's specialist workshop.
Connected to the building only at the head and foot, this intricately designed staircase is formed with free floating, solid oak treads – which wind to form a helical-shaped structure, sitting within the open plan kitchen and living space of the renovated property. The large, chunky oak treads were handcrafted by creating large blocks of timber from the lock gate; carefully shaped to twist elegantly upwards and encased by a slim, white-painted soffit which sweeps to follow their underside. The curvaceous form continues onto the first floor where Bisca also incorporated the curved landing extension.
The reclaimed timber treads bring a sustainable aspect to the staircase, beautifully rustic in appearance with movement showing from their previous life. To maintain their structural integrity, Bisca created bronze butterfly ties which add an attractive detail visible from the surrounding space.
The balustrade is made of heavily textured mild steel uprights reminiscent of the bars in the adjacent stable. Fixed directly into the treads and handrails, they give a neat finish to the more rustic materials used. Round-section oak handrails flow onto the landings and at the foot of the stair they form feature newel posts which match the uprights.
The new staircase is now a unique centre piece within the home, perfectly combining the spirit of the building's history with its repurposing into a modern-day barn conversion property.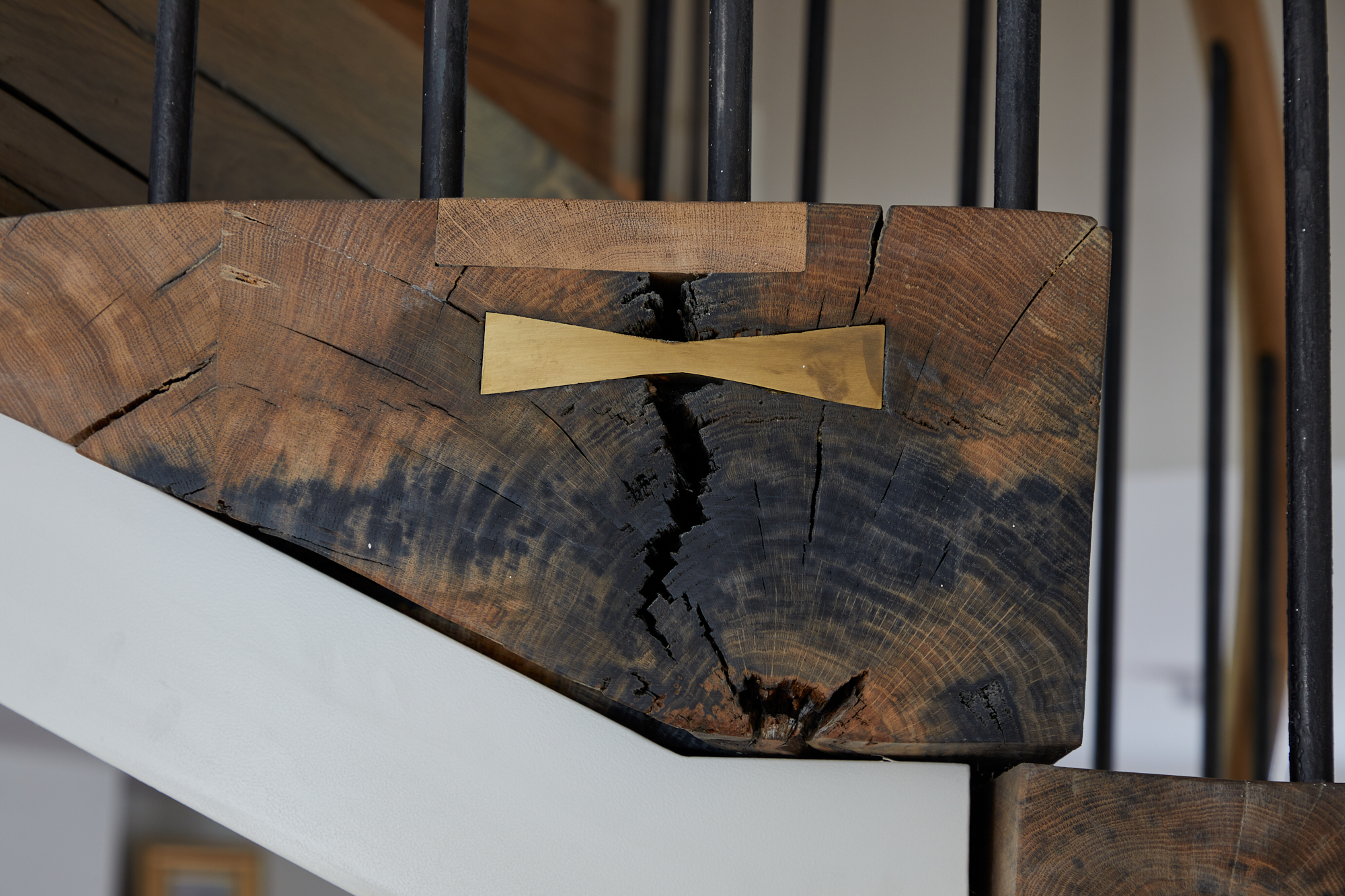 Expert advice on how to create a unique-looking staircase
by Richard McLane, Design Director, Bisca
If you're looking for a statement staircase, a free-floating helical design is a natural choice as it offers maximum impact with minimal building interfaces, allowing it to be viewed from all angles.
Incorporating reclaimed materials adds a unique character to the design with a 'ready-made' patina. Ask a specialist about the suitability of the material to make sure it is structurally sound.
Helical staircases sometimes require additional building preparation so if you are considering this as an option, get your staircase specialist involved as early as possible in your project.
Consider using materials found elsewhere in the property in your staircase design for a cohesive look. Uprights, for example, can be made to match door and window furniture, electrical fittings, or other elements within the interior.
Click below to find out more about The Canal & River Trust:
www.canalrivertrust.org.uk
∣
@CanalRiverTrust