Any Old Iron?
The first thing Bisca try to find out from a client asking for a Wrought Iron balustrade, is what they mean, because it's unlikely they really want what they've just asked for!
Most people referring to "cast" or "wrought iron", actually mean forged steel.  Home owners and industry professionals often misuse the terms.  Richard McLane explains why forged steel is the modern day choice for metal balustrades.
Understand the differences between Cast Iron, Wrought Iron & Forged Steel
Cast Iron was historically used for industrial applications and architectural ironwork. Liquid iron poured into a mould, allows intricate details common in mass-produced Victorian metalwork. Cast iron is more brittle than wrought iron or steel. It is also impossible to shape when heated and rusts easily.
Wrought Iron is more malleable than cast iron and workable with heat. Less prone to rusting due to a higher carbon content than cast iron, it's also better suited to shaping.
Although wrought iron is a generic term for metal balustrades, it is not used much today. Wrought iron is more expensive than steel, yet less consistent in quality. Wrought iron is the predecessor of steel.
Forged Steel has replaced wrought iron for balustrades in all except a few restorations.  Steel is available in various grades depending on final use.
Mild Steel is cost efficient but requires finishing to prevent rust.
Stainless Steel costs more will not rust in a dry household environment.
Marine Grade Steel has non-rust properties and suited for balustrades in humid or wet areas.

Like wrought iron, steel can be worked with heat (forged). Forged steel has the visual appeal of iron but tends to be less expensive.
In-house design and forge capabilities
Bisca can make anything our clients want, due to in-house design and forging facilities.  We combine the use of steels, bronze and other semi-precious metals, with cutting edge design capabilities.
A new gas forge (Yorkshire Dragon) is fully utilised feeding our 3 forge hammers.
Depending on the balustrade design, our in-house blacksmiths work the heated steel using one or more of the hammers. From the heavy duty 5 cwt (255kg) ex naval Massey hammer, to the medium sized 3 cwt (152kg) or the "delicate" 1 cwt, we will take your client brief, turn it into a design and bring it to life in the forge.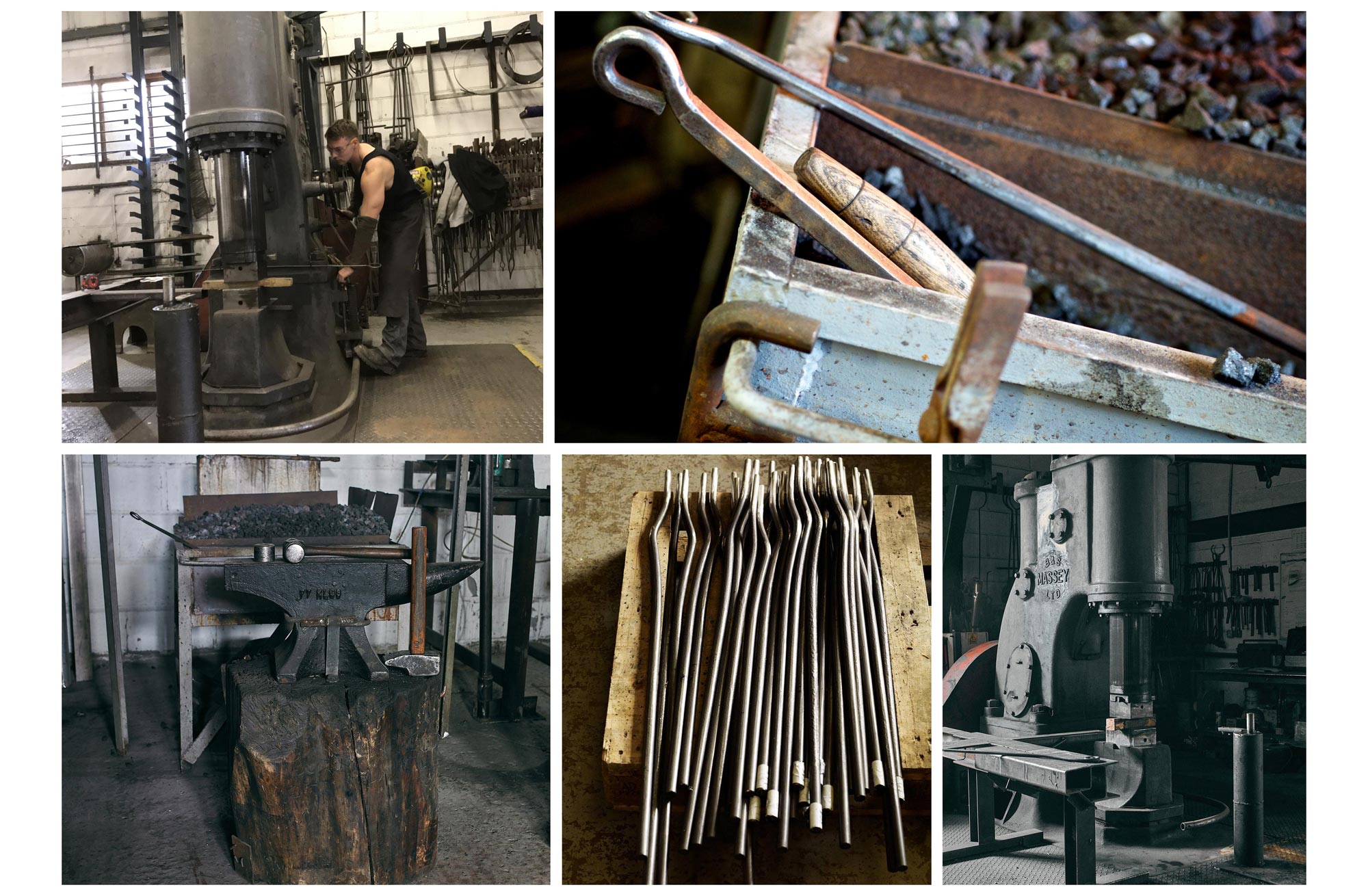 Forged balustrade design options
Bisca designed and forged uprights are both timeless and elegant. We offer a huge range of textures & finishes for both steel, copper & bronze. These include forged, antiqued, sputter, burnished, cast, black-waxed, pickled, polished, patinas etc.
Our Helmsley workshop houses 100+ upright samples, made for previous projects. These and more are available for clients to view when discussing a project.
A forged balustrade from Bisca can transform your staircase. Your balustrade can be designed and retro-fitted to your existing stair or part of a new staircase design. Contact us for a free design consultation.