Modern Oak Staircase with Glass Balustrade, London
A modern oak staircase with a bespoke glass balustrade and oak handrail replaces an outdated spiral structure; completing an impressive renovation project within our client's georgian mansion property. Expertly designed to enhance the comfort of the stair and highlight the features of the property's beautiful interior.
Our client lives in a beautiful georgian mansion in London and was looking to undertake a full scale renovation project which involved the design, manufacture and installation of a modern oak staircase, replacing a pre-existing and dated spiral structure.
The property dates back more than one hundred years and the homeowner had been wanting to undertake a full modernisation programme of her apartment for some time. Following the very first conversation, Bisca understood what was needed and was entirely committed to helping her along that journey. The lady's passion for transforming her property – both from an aesthetic and functional perspective – was apparent. The staircase aspect of the wider renovation project was however creating a particular challenge and had started to hold back progress.
Confident in Bisca's Specialist Staircase Expertise…
Having fallen in love with a range of designs presented in Bisca's staircase gallery, the client contacted our team directly to see how we could help. She was particularly blown away by the level of craftmanship, range of materials and attention to detail offered by our specialist team and felt confident Bisca had the staircase expertise she was looking for.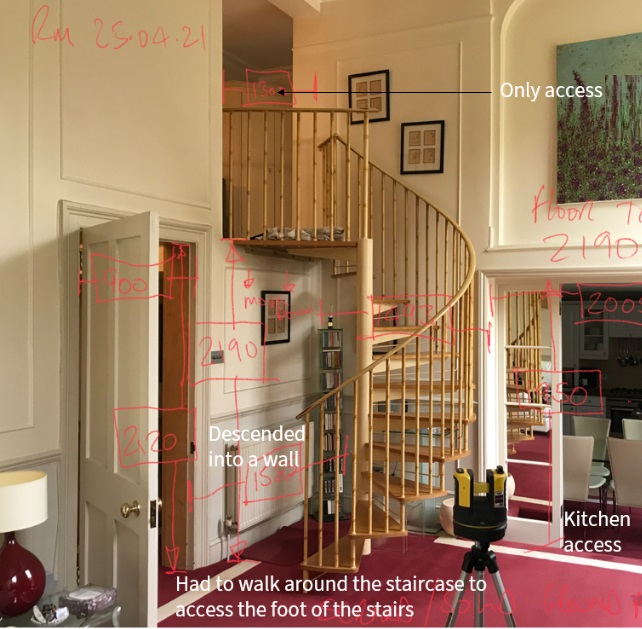 The previous staircase structure provided access from the main apartment to a first floor mezzanine level and was both difficult to use and lacked any visual appeal. We agreed a key requirement for the new oak staircase design was to create a more comfortable ascent, bringing a sense of safety when in use due to our client's restricted mobility. If there was not a more practical and aesthetically pleasing staircase solution, the homeowner felt the only option would be to sell the property.
To successfully modernise the staircase design, Bisca completed a digital survey of the building which provided accurate dimensions and would form the basis of its recommended layout and structure. As a result, Bisca's new staircase design proposed the top tread being inset to the ceiling, which added an extra step in the overall ascent and in turn, optimised the staircase's going whilst reducing the rise of each tread.
Oak Staircase Treads Brought Warmth To The Interior Of The Property
The modern oak staircase treads added a sense of warmth to the refurbished space and made a feature of other exposed timber on display. Slim, mild steel, twin-stingers were hand-fabricated in Bisca's workshop to support each step – painted light grey to match the updated colour palette of the interior.
To maximise the sense of space, an L-shaped, winder layout was proposed with open-rise staircase treads and a luxury glass staircase balustrade – crafted with precision so that all fixings were concealed within it's structure – and allowing optimum natural light to flow freely. The glass staircase balustrade rises up to the mezzanine level and surrounds a landing at first floor; slotted into bespoke crafted oak nosing and capped with a circular-shaped oak handrail.
Attention to detail and dedication of the team was superb…
In addition to its design, this staircase project was also unique in the way it was installed. By working alongside the contractor's schedule, we were able fit the staircase in two separate phases, completing any foundational work of the staircase's installation prior to the floors being fitted and the walls being plastered. This meant at first phase we could remove and dispose of the previous spiral staircase; whilst embedding the upper tread and landing nosings at mezzanine level; and fitting the ground floor oak shoes (connection points) at the foot of the staircase.
To allow access upstairs between the two fitting dates, Bisca created a temporary staircase for the space, which was removed at phase two – at which point the installation of the steel stringers, oak staircase treads and glass balustrade was completed.
A Modern Oak Staircase Design Surpassing All Expectations
Once concluded, as always Bisca sought feedback from the client asking how we could have improved and whether expectations had been met. We were blown away when our client confirmed her expectations had been surpassed and told us…
I honestly can't think of anything you could improve on. Bisca was as near perfect as is possible. A fantastic job; wonderful workmanship; and design through to installation has been a joy.
For further information about this project, please contact sales on 01439 771702 and quote the reference below:
Project ID: 9442