Grand Staircases – Ideas & Inspiration
When we think of grand staircases, a vision of a stately home or other imposing building may spring to mind. Despite this perception, we at Bisca have had the pleasure of designing and crafting many staircases – which through their appearance – have completely transformed the space they belong to; creating a grand entrance or central feature to a property, which will forever be remembered and enjoyed.
Key Considerations For A Grand Staircase
From lighting and interior design, to the layout, style and materials used within the design of your staircase – each aspect is carefully considered as part of Bisca's comprehensive design process used to create a unique and impressive statement, which brings a true sense of opulence and splendour to your home.
Here we provide some inspiration for how to create a staircase which adds individuality and beauty to your dream property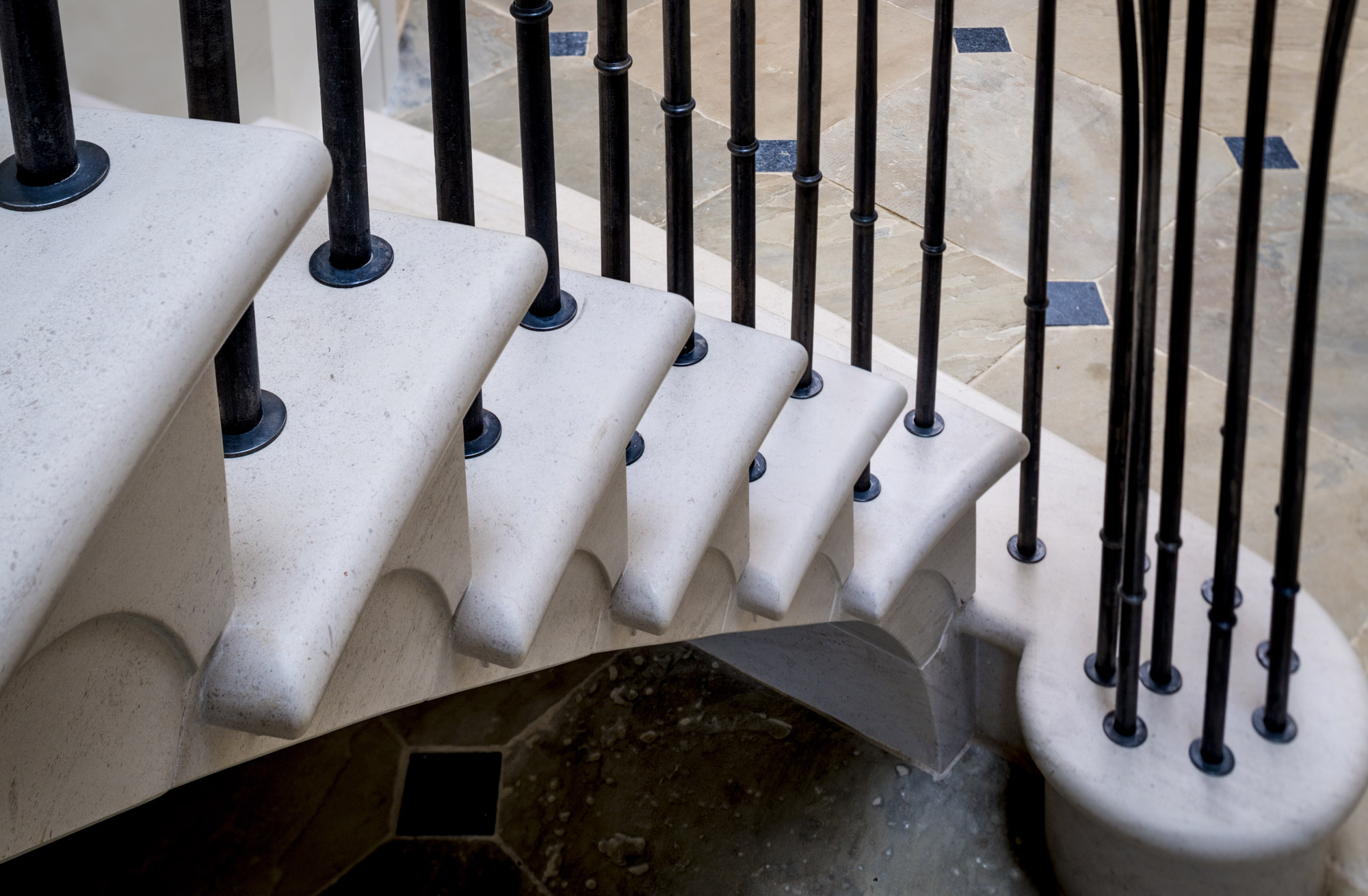 A Stone Cantilever Staircase Creates a Grand Entrance
This English country house showcases a traditional yet classic style staircase, which forms the centre piece to the property's grand entrance. Its cantilever structure hugs the curved wall, with hand forged uprights topped by a timber handrail winding round to follow its elegant contour. A generous bottom tread, together with a caged and voluted newel adds to the staircase's grandeur. View Project 4969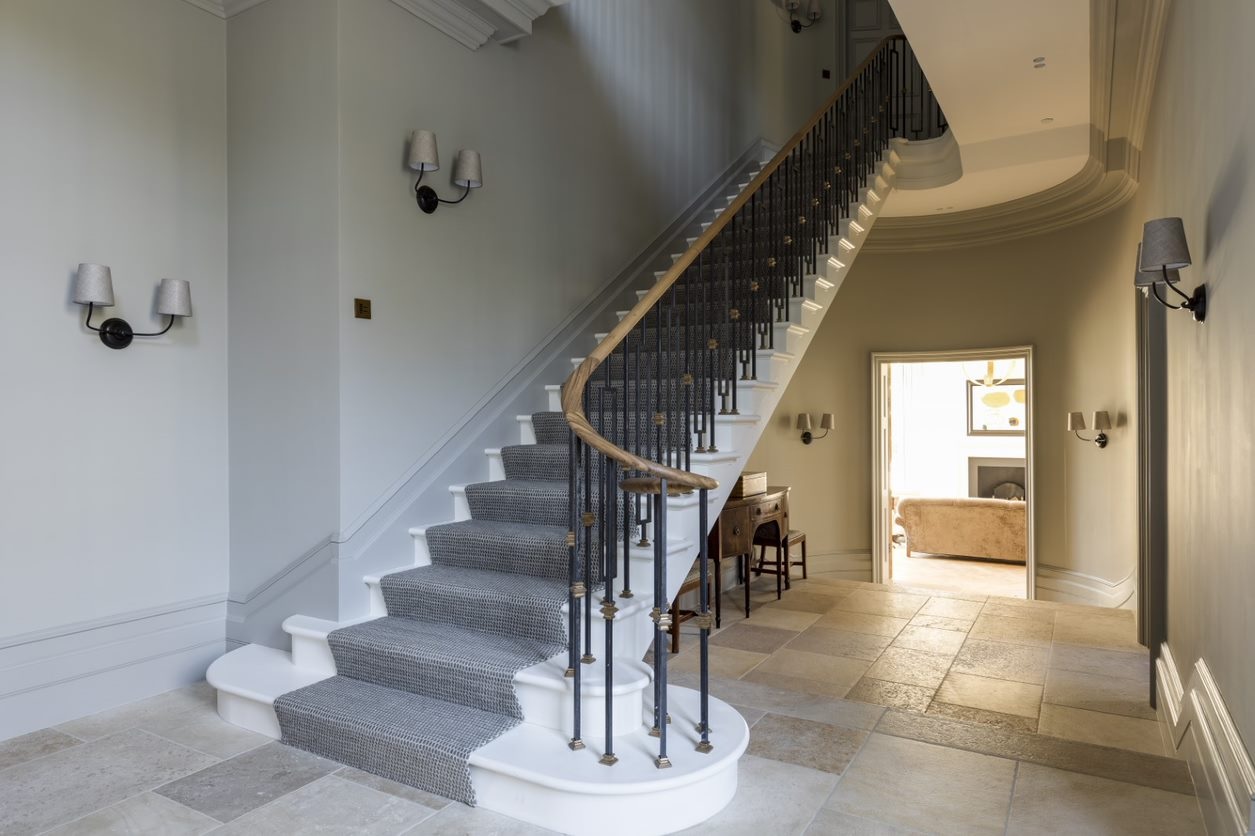 The Grand Formality of a Classic Georgian Staircase
In keeping with the grand formality of Georgian times to fit within an impressive entrance hall, the landing galleries of this staircase are of generous proportions. Bringing a sense of elegance to the space it owns, the timber frame is complemented with a pastiche of authentic scotia moulding. Its blackened burnished uprights with gilded detail, are crowned with a stunning, polished, oak handrail. View Project 5436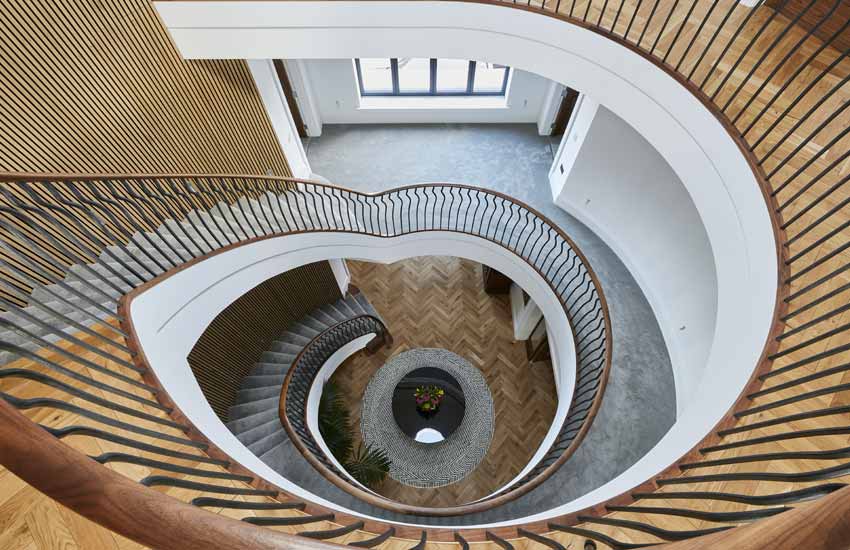 Modern Helical Staircase with Grand Ribbon-Like Effect
A modern helical layout with full string creates a grand ribbon-like effect from the entrance level up through to the second floor. Replacing the previous concrete structure, Bisca's team worked resolutely with the client to eventually realise their dream. The luxurious walnut treads and handrail are connected by a metal balustrade, depicting a sense of elegance whilst improving the comfort and aesthetics – pushing staircase design to new heights… View Project 8532
View Our Gallery of Grand Staircases
Please click below to view our full range of grand staircases