As a recognised staircase specialist, Bisca was delighted to have been invited to contribute to a recent feature in Homes & Gardens magazine, highlighting some of the latest staircase ideas and trends from industry experts.
Whether you're building a new home from the foundations up, or are looking to modernise or renovate an existing property, your staircase is sure to be an integral aspect of your home's interior; impacting the way you move around the property and if designed well, creating a memorable feature which can be enjoyed for generations to come.
Homes & Gardens Magazine rightly merges the concept of a staircase playing both a functional and a creative role in a property. An obvious necessity for accessing different floor levels, your staircase needs to achieve this with as much comfort and ease as is possible. However it is sometimes overlooked that your staircase also offers the potential to create an 'architectural feature' or an 'eye-catching focal point', which contributes both character and style to the interior of your home.
So How Are Staircase Ideas Trending So Far This Year?
When working with an expert like Bisca, staircase ideas and design options are limitless in terms of shape, size, materials and styles. The possibilities are endless and can comprise anything from ornate detailing to match the period features of a building, to a more contemporary use of materials and colours which optimise the light and space in a room.
Staircases have been used to make grand statements in some of our most historic buildings worldwide. Whilst their purpose has been applied for centuries, staircase ideas and trends have changed over time, with Homes & Gardens reporting a movement towards luxury materials; integrating internal decor and colours to add creativity; and a stronger desire to 'celebrate' this greatly used structural feature in the modern-day property.
Here are some of the key staircase ideas and trends to consider when planning your new staircase:
1. Materials – Selecting an elegant mix to contrast textures, shapes and colours which offer rich visual interest.
2. Steel – An increasingly popular and versatile product, which brings decorative and elegant qualities; and a whole range of exotic and unique finishes.
3. Colour – Create impact with paint and colour, using carpet and runners; the balustrade; or the surrounding décor within the space.
4. Luxury – Be more adventurous, using materials such as marble and stone; and shapes which enhance the staircase's sense of movement.
5. Floating– Create a sense of magic and visual interest, maximising the flow of light and reducing its imposing physical stature.
6. Spiral – Incorporate a striking design feature with a dynamic presence… Richard McLane, design director at Bisca comments:
From a design perspective, spiral staircases, with their DNA-like profiles, are both sculptural and functional. Practically, they are great for those who want to improve their current living space without physically moving; as a spiral is a good way of extending up to the loft, or down into the basement.
Importantly, timber is also a great sustainable option, which is a focus across interior design trends for 2023.
7. Timeless Timber – Natural timber and raw finishes are popular, revealing the pattern of the wood grain and creating a tactile surface.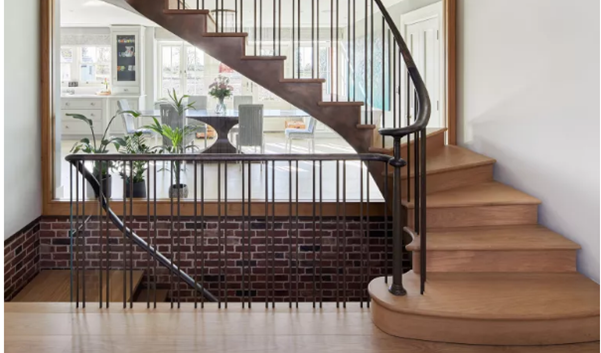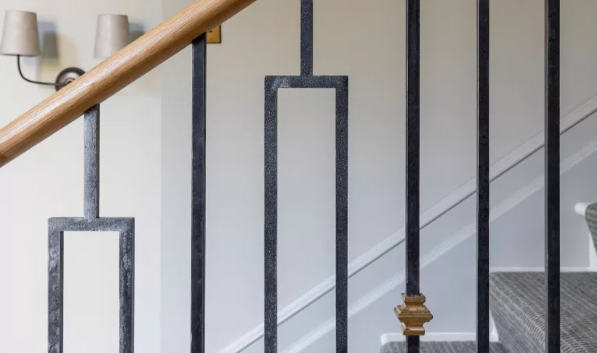 Bisca's Richard McLane goes on to say…
Another reason timber is gaining in popularity, is it is a material which can be recycled and repurposed. Requests for using sustainable materials in our designs are now more common than not. Whether it's sourcing reclaimed wood barrels from an old vodka distillery or working with pieces our customers have sourced themselves, reusing timber or even a slab of stone adds a piece of history to the design, with a story to tell.
8. Lighting – Use the effects of bespoke lighting to accentuate and illuminate the beautiful features of your staircase.
9. Runners – Comfort has become a priority in the home, which can be achieved with a stair runner, adding personality and texture to the room.
10. Shape – Use a staircase's form to create your desired atmosphere, from sweeping and soft curves, to crisp edging and straight lines.
11. Warmth – Use warmer toned metals in a staircase balustrade, such as bronze or hand-forged uprights, adding detail and scope to the design.
People are more and more interested in time-honored craftsmanship and a balustrade of hand-forged, hand-finished uprights.
A rectangular panel within the balustrade, as shown to the right, adds more detail and increases the design scope, with a small, decorative addition in brass catching the light and adding interest and a touch of luxury.
Richard McLane concludes.
So How Do You Choose The Right Staircase For Your Home?
Which staircase would work best for you will depend on your personal preferences, interior design style, the space available and the property's character and features. These are all primary considerations when starting the initial design concepts for a staircase and only when working with a genuine staircase specialist like Bisca, will you achieve a truly bespoke solution which is crafted for your individual needs. Find out more about staircase design.
To read the full article from, Homes & Gardens. Alternatively view our gallery for inspiration.