Winners of Best Product Design Category | Best Product Design for 2016
Nominated in the best product design category, Bisca joined hundreds of other leading designers at the Royal Armouries, Leeds for the 14th Northern Design Awards on 11 November.
We were delighted to be presented with the award for Best Product Design 2016 by Wayne Hemmingway. In his own words Wayne said
you guys blew us away with this staircase
This year we won with a contemporary oak staircase supported on structural glass balustrades. The geometry of the stair design complements the house interior with elements of Charles Rennie Mackintosh inspired décor, providing the perfect showcase for Bisca's staircase.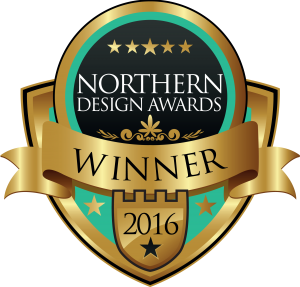 Flared features treads provide a welcome at the foot of the staircase, whilst feature newels guard each side of the stair. The main flight splits into two shorter flights at the top left or right – depending on the direction of travel.  Sweeping white plastered soffits blend into the ceiling and oak landing noses define the stair space.
All balustrading was done by Bisca, as was the detailing of the magnificent glass roof to the first floor. The roof light also acts as a glass floor to the second floor. The large aperture allows light to flood down from the skylight through to ground level lobby.
To see further images of this project please see project 4026 in our gallery.
The 2016 award comes on the heels of our win last year in the same category with our Shippon Staircase.