Glass Staircase Designs
The use of glass within staircases has always been a popular choice – however never more so than in recent years, where there is clearly a growing trend for it's use when commissioning a bespoke staircase design. Renowned for pushing the boundaries on how glass can be incorporated to create a truly unique, statement staircase; Bisca has used glass in almost every property type, from the most modern, to more traditional and characterful properties.
Glass is a material that will not just create a lasting impression – but will work to optimise light, bring a positive contrast between old and new, or simply enhance the overall appearance of space within your building.  With clever design, the versatility of glass can be exploited to complement a whole range of interior spaces.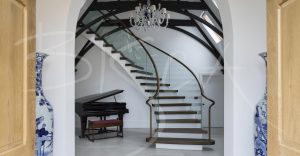 A central feature to this converted chapel (right), the new staircase combines stained oak treads to complement the dark beams in the roof, with a glass balustrade, helping to enhance the historic features within the building. An oval, oak profiled handrail runs continuously down each side of the stair, whilst LED lighting has been incorporated at design stage, bringing a soft glow to the glass as the light in the room fades. View this project
Whilst often perceived to be a more contemporary element of any staircase design, there are some key considerations to be made when incorporating glass into a staircase project. If designed carefully and in empathy with the building, this versatile material can be as timeless as any other. Specialist staircase design engineers will not just consider the space they are working with, but also the property features and interior design scheme, together with a client's personal preferences and aspirations.
Whether its purpose is to soften the edges of a staircase, improve the flow of space, minimise darkened or subdued areas of light, or simply create an invisible structure within your home – with the right design skills and craftmanship at hand, the options are endless for how glass can be incorporated to achieve a truly unique and statement staircase within your home.