The use of glass within staircases has always been a popular choice – however never more so than in recent years, where there is clearly a growing trend for it's use when commissioning a bespoke staircase design. Renowned for pushing the boundaries on how glass can be incorporated to create a truly unique, statement staircase; Bisca has used glass in almost every property type, from the most modern, to more traditional and characterful properties.
Glass is a material that will not just create a lasting impression – but will work to optimise light, bring a positive contrast between old and new, or simply enhance the overall appearance of space within your building.  With clever design, the versatility of glass can be exploited to complement a whole range of interior spaces.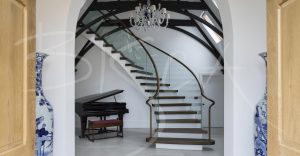 A central feature to this converted chapel (above), the new staircase combines stained oak treads to complement the dark beams in the roof, with a glass balustrade, helping to enhance the historic features within the building. An oval, oak profiled handrail runs continuously down each side of the stair, whilst LED lighting has been incorporated at design stage, bringing a soft glow to the glass as the light in the room fades. View more on this project >>
Whilst often perceived to be a more contemporary element of any staircase design, there are some key considerations to be made when incorporating glass into a staircase project. If designed carefully and in empathy with the building, this versatile material can be as timeless as any other. Specialist staircase design engineers will not just consider the space they are working with, but also the property features and interior design scheme, together with a client's personal preferences and aspirations.
Maximising Light with Glass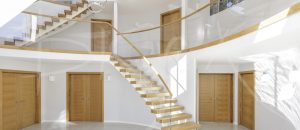 Often a large structure which commands a lot of space in a room – your staircase is often positioned within the heart of your property for everybody to see and enjoy.  This makes it important to achieve a good balance, so that any features within its surrounding space are not undermined; glass within a staircase will naturally introduce more light to the space.
Whilst the layout of this staircase (above) was adapted to free up valuable space and create a sense of flow, the low iron glass balustrade reflects and allows maximum throughput of light, aided by skylights above. Running up both flights and along landing galleries, the glass balustrade slots into the staircase treads and circular oak handrails, without any visible fixings. View more on this project >>
Limitless Boundaries of Glass in Staircases

When commissioning a staircase which not only meets its functional purpose, but which also serves as a sculptural feature that enhances the interior of your home – glass is a material which offers boundless opportunities.
Viewed from outside and inside, this helical stair design is stunning. The parapet wall is topped with an oval profile handrail which rolls down over the front edge to the floor and is painted to appear as part of the wall. Glass forms the inner balustrade capped by an oak handrail, before ending in a circular newel on the ground floor. The inner handrail has lighting incorporated, throwing gentle light onto the glass and treads below. View more on this project >>
Using Glass for Structural Strength in your Staircase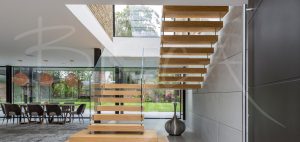 Despite being an almost invisible material, glass also has the capacity to provide guarding or support to your staircase, with minimum visual impact.  Every detail of glass within your staircase is noticeable and so finding a designer who has both the vision and experience to create a flawless finish, is a critical part of the process.
Floating treads and low iron glass are integral to the design of this feature staircase in a modern, new-build property. Glass balustrades and open-risers bring about a truly floating appearance, allowing a view through the staircase to the garden beyond. The laminated balustrades form both structure and handrails to the stair, creating a minimalistic appeal with an open view of the entire living area. View more on this project >>
Total Glass – The Ultimate Wow Factor Staircase
Constructed completely in glass, a staircase can appear unobtrusive due to the transparency of the material, particularly in an open plan environment.  A glass staircase in front of, or across a window will visually 'disappear' and allow you to see open views beyond.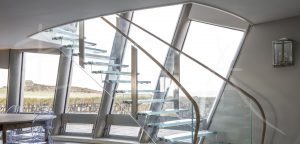 This staircase is the perfect example of how glass can be designed in empathy with a property's most appealing features. A prestigious family home in Wales is perched high on the coast, enjoying breath taking views of the Irish Sea. Triple laminated, low iron glass treads are supported by a structural glass balustrade, creating a sculptural feature without detracting from the vista outside. View more on this project >>
Whether its purpose is to soften the edges of a staircase, improve the flow of space, minimise darkened or subdued areas of light, or simply create an invisible structure within your home – with the right design skills and craftmanship at hand, the options are endless for how glass can be incorporated to achieve a truly unique and statement staircase within your home.