It is with great pride that we announce Bisca's success in being nominated as a finalist at Northern Design Awards 2023, otherwise known as the 'heartbeat of the northern design industry'.
The Designer Maker category is perfectly suited to showcase the difference that Bisca offers its clients. Applying a unique combination of both creativity and craftsmanship to every staircase commissioned to our team.
Working directly with homeowners as well as their chosen partners, Bisca's specialist staircase design skills bring to life some of the most exciting and ambitious staircase aspirations in our industry. Founded almost 30 years ago, it has been Bisca's drive to set the standards for world-leading staircase design, pushing the boundaries in terms of the materials, layout, style and impact that can be achieved. Quality and sustainability are deep-rooted within each staircase project we work on; ensuring that every project we handle is crafted responsibly and ethically, whilst meeting our customer's expectations every time.
Customer promise | Environmental commitment
As a finalist for the prestigious Designer Maker accolade, Bisca is recognised for its ability to honour traditional craftsmanship techniques, bringing to life functional works of art – which offer unique aesthetic appeal and require meticulous attention to detail as part of an intricate staircase process.
Below are two staircase projects recognised by the Northern Design Awards 2023 in this category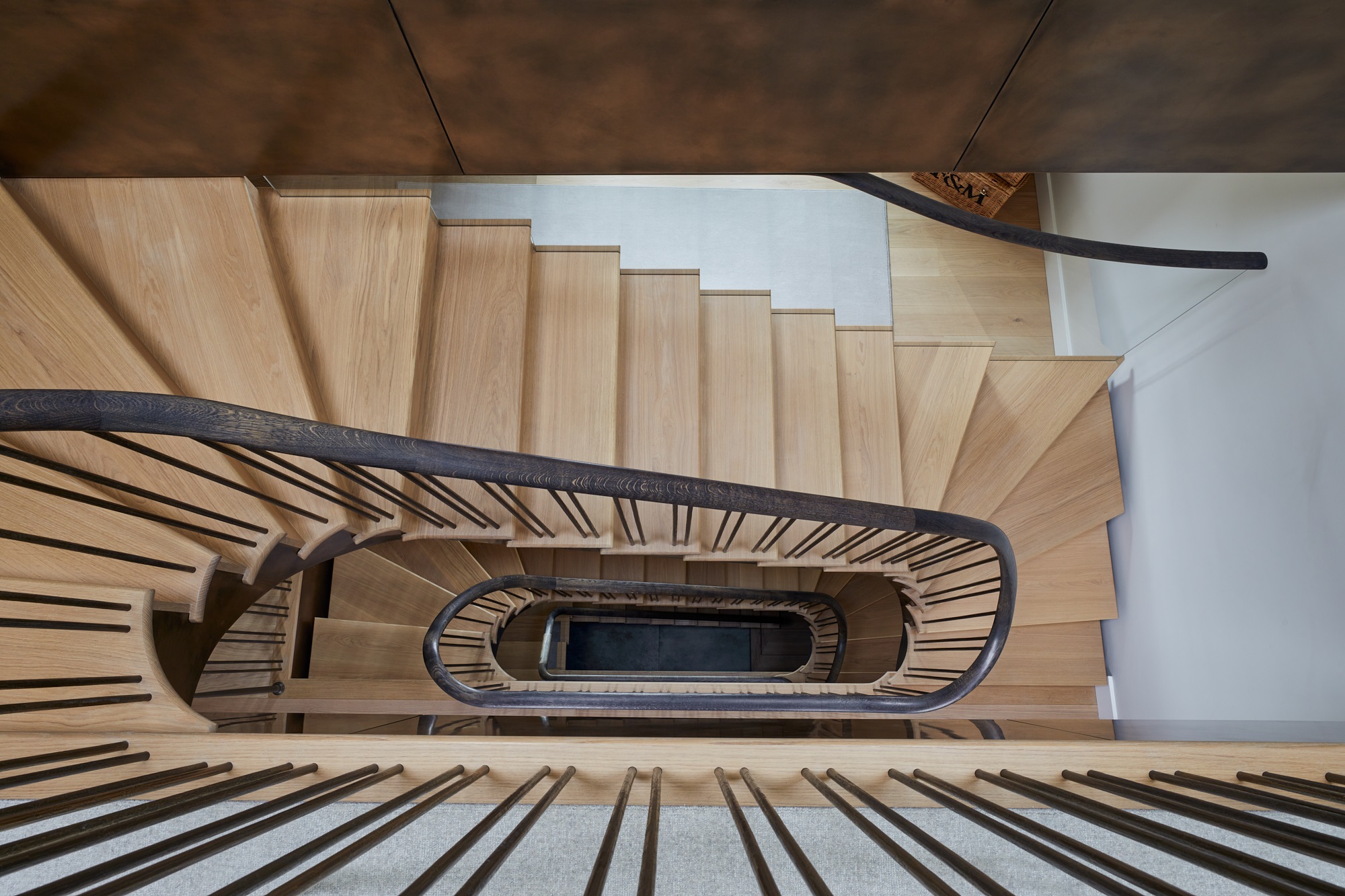 Three Luxury Timber Staircases, Hertfordshire
The brief was to create three beautiful works of art. Each with a functional purpose, which our client could admire and enjoy for years to come; the staircases were to take prime position as you enter the property, running from a basement level up to the second floor. Inspired by Georgian architecture, Bisca's design team incorporated a contemporary twist, bringing an exclusive feel to the heart of the home. The style perfectly connected with the surrounding space, which accentuated its attractive and modern interior.
Bisca's design engineers enhanced the architect's original plans. They proposed a more curvaceous layout with an increased going and sweeping soffits to the upper two flights. These changes created a greater sense of comfort and elegance in its structure and form. The staircase layout was drawn up to give a floating appearance through the centre of the building – transitioning from a contemporary style at lower ground level, up to a more classical staircase design for the upper flights.
Project details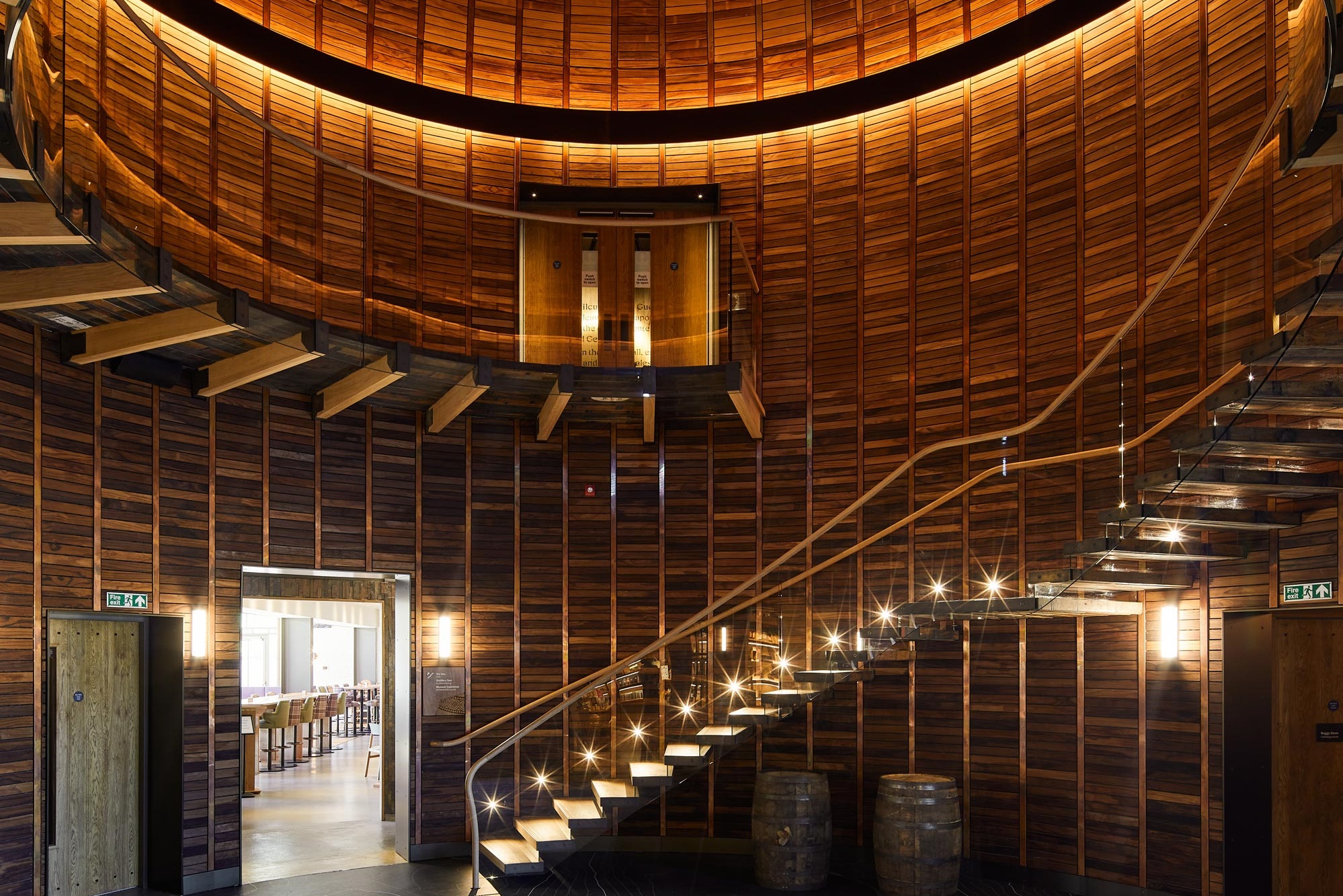 Floating Oak Staircase, Whisky Museum, Northumberland
It is typical for a Bisca client to buy from their heart; passionate about having a staircase crafted to create a truly unique feature within their property – the owners of Ad Gefrin were no exception. The central atrium to their newly founded business premises was planned to replicate the inside of a barrel; it's timber clad walls would be a focal point for the space – and so whilst the brief for the staircase was left open to Bisca's creativity, it was essential it complemented and drew attention to the well thought-out interior design scheme.
As well as needing to develop a visually pleasing and aesthetic solution, our client's preference directed us towards a cantilevered style staircase, which presented a floating appearance and followed the internal curves of its barrel-shaped space. Each tread was hand-crafted from reclaimed vodka oak, integrating perfectly with its surrounding space, eventually meeting a large mezzanine which encircled the atrium at first floor height.
Project details